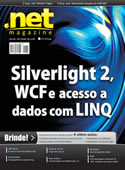 Meu artigo sobre criação de aplicativos LOB (Line of Business) com Silverlight foi publicado na revista .net Magazine número 60 (aliás, ele é o artigo de capa). Neste artigo, mostro como criar uma aplicação LOB usando o Silverlight e WCF.
Lá eu mostro como criar um serviço WCF que acessa os dados de um banco de dados usando Linq to SQL e um programa Silverlight que acessa este serviço. A aplicação mostra como pesquisar, incluir,  editar ou excluir os dados. Além disso, mostro como fazer a mudança entre as páginas de uma aplicação Silverlight, mostrando a lista numa página e os detalhes em outra.
Enfim, se você quer saber como criar uma aplicação comercial usando Silverlight, vale a pena dar uma conferida no artigo.